Copy-trading with the day trader and physicist Klaus Oldigs in Pilsen
The innovative business consultancy of graduate physicist Klaus Oldigs in Pilsen carries out day trading activities in the forex market, also with cryptocurrencies and with indices such as the Dax, Dow Jones, or Nikkei index and also trading in other markets, such as in gold.
Interested parties can connect their own account using copy trading software and automatically receive all trading positions booked in and out, which can be checked and even changed at any time.
The big advantage here is that no special knowledge or significant investment in time is required.
The year 2021 will become a good year for many traders as the volatility in the markets will remain high,
an important prerequisite for successful trading
.
Look at the recent price movements in Bitcoin, to give you just one simple example.
This is an intelligent and almost ideal solution for all those who, in uncertain times with low-interest rates, want to take advantage of better opportunities in interesting markets speculatively and confidently with professional assistance, without having to spend their own time or effort.
So you can easily turn your personal account into a "managed account" (PAMM Account) with a proven expert.
The performance record with monthly results for 2020 can be viewed here and on the
HOME
and
GALLERY
page and is really impressive - compare it calmly and then decide against or in favor!
It should be noted that past results are not an indication of the future.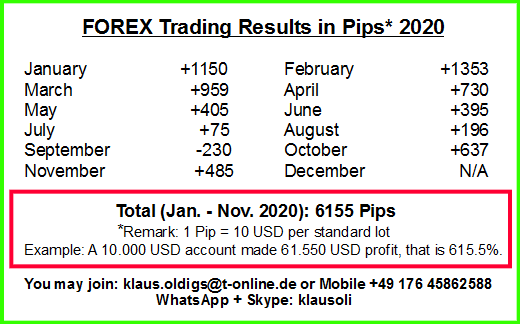 If you have any questions, you can contact me directly from 10 a.m. to 10 p.m. on +49 176 45862588 or on +420 607318042 or via Skype with the identifier klausoli.
You can find my instructive videos on trading on Youtube under this link:
IN EACH CASE, I WISH YOU ALL THE BEST AND MUCH SUCCESS!
google4b8639c741518ed8.html